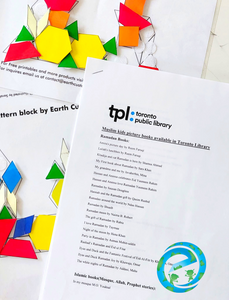 Earth Custodians.ca
FREE list of Muslim Picture books Toronto Public Library
Regular price
$0.00
$0.00
Unit price
per
Alhamdulillah finally after 2 years I'm sharing my list of all Muslim kids' books that are available in Toronto Public Library. This list contains all problem-free books while there are several new and old books in the library. I have read all of these books personally with my kids during lockdown in Global Pandemic Alhamdulillah since 2019. Also, I have recommended some books which aren't available yet and yes you can place them on hold to be the 1st one to get them.  
This list is Sadaqah-al-Jariah and can't be sold at all. Please do inform your local masjids, Islamic schools, so that most people can take benefit inshaAllah. 
---
Share this Product
Love it!
I love it, it inspired me to seach bookd from Muslim authors and we full our home with Islamic literature for our family. Great! Thanks mashaaAllah Jazakhumullahukhairun
Wonderful Muslim books list
I felt really special when I saw this list and I really would like to thank everyone who made a great effort for this.
---